are a powerful add-on to the Delphi Visual Component Library, and provide a comprehensive set of text viewing and editing classes, including a data aware version of the text editor for use in Database applications.
The J-Write components have been designed to provide a powerful set of Delphi components to support the viewing, printing and editing of text files. Such files occur everywhere on most modern computer systems. They may contain network logs, configuration information, or technical papers, such as Internet RFCs. J-Write is fast and handles large files (of the order of megabytes) as fast as it handles small files. Just compare it loading and editing a megabyte or more of text, with Delphi's TRichText control and you'll see what speed means.
A comprehensive online help file is included in this release, and a User Manual is also available.
This is what you get when you add the J-Write Component Library to your Delphi IDE. Each of these classes is discussed in the feature list.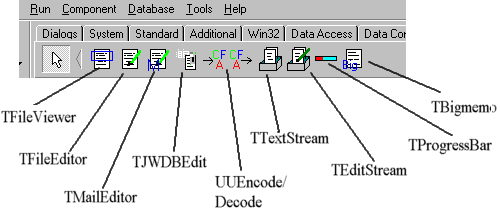 ---
The J-Write Component Library is targetted at software developers using Borland's Delphi Development Environment. The J-Write Text Editor was itself developed with Delphi and its text editing engine is now available as a component for use in Delphi. The J-Write Component Library includes all the components used in the J-Write Text Editor and makes them available for use on the Delphi component palette for use in your applications. Both binary and source code licences are available. The components support the same features as the Text Editor, and are available for Delphi versions 1, 2, 3, 4, 5, 6 and 7.
The J-Write Component Library is marketed as shareware. You have a licence to use it for thirty days after which you should either register the product or stop using it. The J-Write Component Library Shareware edition cannot be used unless the Delphi Development Environment is also active on the same system. Please see our Support and Upgrade Policy..
copyright © 2013 McCallum Whyman Associates ltd