Welcome to the MWA GIF Component Library. This is a full featured Object Pascal implementation of the Compuserve Graphics Interchange Format (GIF) for all versions of Delphi and C++Builder.
The GIF Component Library is a source code product from MWA Software. One registration covers all versions of Delphi and C++Builder. Royalty free distribution of compiled programs using this product is permitted. Please note that the evaluation version is restricted such that it will only run when the Delphi or C++Builder IDE is running. The registered version has no such restriction.
When you install the MWA GIF Component Library, you get four new components: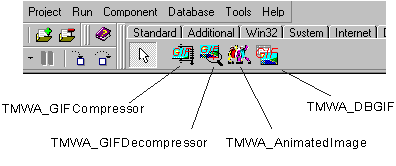 TMWA_GIFCompressor and TMWA_GIFDecompressor are the two non-visual components that save and load GIF images. Include them on in your project to load and save GIFs into ordinary TImage components.
TMWA_AnimatedImage is a new visual component. It looks like TImage but can display both static and animated GIFs. Use this component to add animation to your projects.
TMWA_DBGIF is a data aware control that allows you to save images in GIF format in database records.
A User Manual is also available for download.
copyright © 2013 McCallum Whyman Associates ltd